lundi 10 mai 2010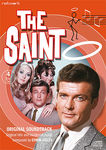 Edwin Astley
Network (Infos)
Disponible le 31 mai. 4 cd.
Série TV (1962-1969 - Le saint).
Un album (un ré-enregistrement effectué par le compositeur) a précédemment été édité en LP puis en cd (seul ou couplé avec "Secret Agent / Danger Man") par divers éditeur et récemment, quelques extraits ont été proposés sur la compilation The music of ITC éditée par Network. Cette édition propose environ 200 morceaux issus des épisodes tournés en couleur soit les deux dernières saisons (les 5ème et 6ème) de la série. A noter que l'ensemble des aventures de Simon Templar ont été mis en musique par Edwin Astley.