mardi 9 mars 2010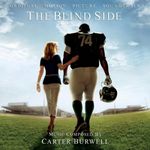 Carter Burwell
WaterTower Music (Infos et track-listing)

Disponible. Téléchargement uniquement. Update : CD-R.
Film (2009 - John Lee Hancock).
3ème collaboration entre Carter Burwell et John Lee Hancock après "The rookie" en 2002 et "Alamo" en 2004 (édité par Hollywood Records). Cette édition propose 18 morceaux pour une durée totale d'environ 27' ainsi que quatre morceaux signés The Books feat. Jose Gonzalez (Cello Song), Dave Brubek (Osmosis), Canned Heat (Goin' up the Country) et Five for Fighting (Chances).
Update du 16 avril : disponible en cd pressé en Allemagne chez Sony depuis le début du mois.