vendredi 16 octobre 2009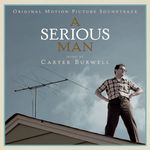 Carter Burwell
Lakeshore Records (Infos et track-listing)

Disponible le 3 novembre. Update : 24 novembre.
Film (infos). En salle le 20 janvier 2010 : A serious man.
Et hop, 14ème collaboration entre Carter Burwell et les frères Coen ! En plus du score, cette édition propose trois chansons interprétées par les Jefferson Airplane ("Somebody to love", "Comin' back to me" et "Today") ainsi qu'une chanson interprétée par Sidor Belarsky ("Dem milner's trern").