lundi 29 décembre 2008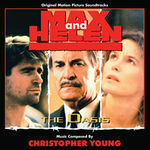 Christopher Young (Site officiel)

BSX Records (Infos, extraits et track-listing)
Disponible le 10 janvier. Edition limitée à 1 000 exemplaires.
Téléfilm réalisé en 1990 (infos) : Max et Hélène / Film réalisé en 1984 (infos) : (inédit).
Le score de "Max and Helen" a précédemment été édité en cd par Bay Cities (couplé avec deux oeuvres orchestrales composées par Christopher Young : "Masses" et "Koku-Ryû") et celui de "The Oasis" par Edel (couplé avec le score rejeté de "Invaders from Mars" et une autre oeuvre orchestrale : "Holy Matrimoney for viola with toys"). Cette édition propose ces deux scores remastérisés mais à l'identique (les deux cds étant épuisés depuis longtemps).