jeudi 10 avril 2008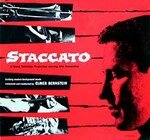 * Staccato
* Elmer Bernstein (Site officiel)

* DRG
Disponible le 29 avril.
Série tv créée en 1959 : Johnny Staccato.
Elmer Bernstein a composé la musique du générique et de l'ensemble des 27 épisodes que compte cette série dont le rôle titre, un détective aussi pianiste de jazz à ses heures perdues, était interprété par John Cassavetes. Cette édition propose la réédition à l'identique du LP édité par Capitol, inédit à ce jour en cd. Ce LP contenait un réenregistrement effectué pour l'album par Bernstein avec, parmi les musiciens, John Williams au piano. D'ailleurs, Williams est aussi apparu, comme pianiste, dans deux épisodes de la série. Quelques infos sur la série ici. En complément, la réédition d'un autre album édité en LP par Capitol, "Paris Swings", où Elmer Bernstein and the Swinging Bon Vivant reprenaient quelques standards populaires ainsi que des thèmes issus de différents films (visuel de la pochette du LP ici).