vendredi 22 février 2008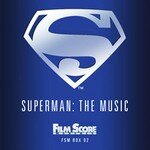 * "Superman: The Music"
* John Williams / Ken Thorne / Alexander Courage / Ron Jones
* Film Score Monthly (Infos)

Disponible le 21 février. Edition limitée à 3 000 ex.
Coffret 8 cd.
!! MAJ du 21/02 : infos, extraits et track-listing maintenant disponible ici. !!
Le coffret "Blue Box" est enfin annoncé et, sans surprise, il est consacré à Superman et propose les scores des 4 long-métrages réalisés entre 1978 et 1987 plus celui de la série animée diffusée en 1988. Sur les 2 premiers cds, le score de John Williams pour le premier film est présenté dans son intégralité et entièrement remastérisé. Les 3ème et 4ème cds proposent les scores complets de "Superman II" et de "Superman III", tous les 2 dus à Ken Thorne d'après les thèmes de John Williams. Les 5ème et 6ème cds sont entièrement dévolus à celui de "Superman IV : The quest for peace" qui reprend la musique de John Williams mais adaptée par Alexander Courage ainsi que 3 nouveaux thèmes signés par Williams. Le 7ème cd contient la musique de Ron Jones pour la série animée "Superman" (infos ici) et le 8ème cd est rempli de morceaux alternatifs, de "source music" et de chansons (Giorgio Moroder...). Le tout est présenté dans un coffret... bleu, orné du sigle argenté "S" de Superman, et est accompagné d'un livret de 160 pages. Il sera possible de le commander dès jeudi prochain à 21 heures (heure française) sur le site de Screen Archives Entertainment. A noter que 50 exemplaires auront les autographes de Ken Thorne et de Ron Jones (pour un coût supplémentaire de 50 dollars) et que les visuels, track-listings et extraits seront disponibles des jeudi.
MAJ du 12 mars : un 2ème pressage de 3000 exemplaires est annoncé. infos ici.