mardi 30 octobre 2007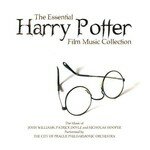 * "The essential Harry Potter film music collection"

* John Williams / Patrick Doyle / Nicholas Hooper

* Silva Screen (Track-listing)

Disponible le 12 novembre. Double cd.

Nouvelle compilation consacrée aux scores des films adaptés des romans d'Harry Potter et contenant des extraits interprétés par le City of Prague Philharmonic Orchestra. Cette édition propose des morceaux déjà édités en 2006 dans un précédent cd intitulé "Music from the Harry Potter films" ainsi que de nouveaux morceaux dont ceux issus du cinquième et dernier film réalisé à ce jour "Harry Potter and the order of the Phoenix" par Nicholas Hooper.