vendredi 28 septembre 2007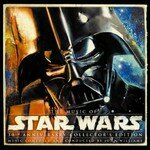 * "The music of Star Wars : 30th anniversary collector's edition"
* John Williams
* Sony Classical (Infos)

Disponible le 06 novembre.
Coffret de 8 cds : 3 doubles pour les films "Episode 4 : a new hope", "Episode 5 : The empire strikes back" et "Episode 6 : Return of the Jedi" (précédemments édités par RCA Victor puis Sony Classical, contenus identiques), 1 compilation intitulée "Star Wars : The Corellian Edition" qui regroupe 13 extraits issus des 6 films (pas de morceaux inédits) et 1 cd-rom contenant différents visuels, photos et posters. Les 8 cds seront proposés dans un coffret "deluxe" avec un poster exclusif et trois autocollants inédits (voir détails dans lien ci-dessus). A noter que la compilation "Star Wars : The Correlian Edition" sortira seule le 02 octobre.