vendredi 7 septembre 2007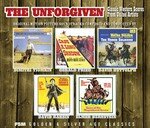 * "The Unforgiven : Classic western scores from United Artists"
* Dimitri Tiomkin / Gerald Fried / David Buttolph / David Raksin / Elmer Bernstein
* Film Score Monthly (Infos, extraits et track-listing)
Disponible. 3 cds. Edition limitée à 1 500 exemplaires.
Contenu :
The unforgiven (Le vent de la plaine - 1960) de Dimitri Tiomkin.
Cast a long shadow (1959) de Gerald Fried.
The horse soldiers (Les cavaliers - 1959) de David Buttolph.
Invitation to a gunfighter (Le mercenaire de minuit - 1964) de David Raksin.
Guns of the magnificent seven (Les colts de sept mercenaires - 1968) d'Elmer Bernstein.
FSM nous propose ce mois-ci son premier "Budget box set" : un coffret de 3 cds comprenant 5 scores pour un prix modique ! (d'autres suivront si la formule marche). Les 5 scores, des westerns produit par la United Artists, sont tous inédits en cd. "The unforgiven" et "The horse soldiers" sont des reprises de LP précédemment édités par United Artists. Les 3 autres titres n'avaient jamais été édités et les scores présentés ici sont complets.