mercredi 13 juin 2007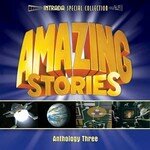 * Amazing Stories - Anthology three
* John Williams / Alan Silvestri / Craig Safan / Michael Kamen / Bruce Broughton / Billy Goldenberg / Fred Steiner / John Addison / Pat Metheny
* Intrada (Infos, extraits et track-listing)
Intrada Special Collection - Volume 44. Double cd.
Disponible. Edition limitée à 3 000 exemplaires.
Série tv diffusé en 1985.
Pour finir en beauté, cette édition propose entre autres les musiques de 3 épisodes un peu plus long : "Go to the head of the class" de Robert Zemeckis par Alan Silvestri, "Mirror, mirror" de Martin Scorsese par Michael Kamen et "The mission" de Steven Spielberg par John Williams (dont un réenregistrement avait été édité par Varese Sarabande en 1999). Les deux précédentes anthologies étaient sorties en mai et en août de l'année dernière. Cette édition aurait du sortir à la fin de cette même année et devait initialement contenir le score du deuxième épisode signé par Danny Elfman, "Family dog" (réalisé par Tim Burton). Malheureusement et malgré de longues recherches (d'ou le retard de parution), les bandes n'ont toujours pas été localisées et sont apparemment détruites ou perdues (à tout jamais ?). Infos, extraits et track-listing des 2 précédents double cd ici et ici.