mardi 22 mai 2007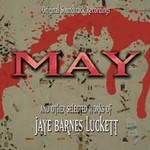 * May
* Jaye Barnes Luckett (Site officiel)

* La-La Land Records (Infos, extraits et track-listing)
Disponible. Edition limitée à 1 000 exemplaires.
Film réalisé en 2002.
En plus du score de "May", cette édition propose deux autres béos composées par Jaye Barnes Luckett pour le réalisateur Lucky McKee : l'épisode de la série "Masters of Horrors", Sick girl, et la musique rejetée de The woods (tout les deux en 2006). Sont aussi proposés : un morceau issu de la béo du documentaire The toolbox murders : as it was réalisé par Kevin Ford et Chris Sivertson en 2003 et le score du film Roman, réalisé en 2006 par l'actrice Angela Bettis (qui a joué dans tous les films de Lucky McKee). A noter que la chanteuse, musicienne et compositrice Jaye Barnes Luckett est aussi connue sous le nom de Poperratic.